Today we finally moved the crate with the plaster cast of the Glyptodon body-skeleton (see earlier blogs) from the tunnels underneath Foss Hill to the machine shop at the ground level of Exley. The name Glyptodon was given by Richard Owen (1839), who was the first to realize that a number of fossils described as separate animals were, in fact, all part of the same animal, a now extinct giant armadillo. Glyptodons were South American mammals, and the original fossil of which ours is a cast was found in Argentina in 1846, and is now in a museum in Dijon, France. The casts were sold by Ward's Scientific Company of Rochester, NY, founded by Henry A Ward (1840-1906), and Wesleyan obtained one for the Judd Hall Museum of Natural History in the 1870s (it cost then $150.-).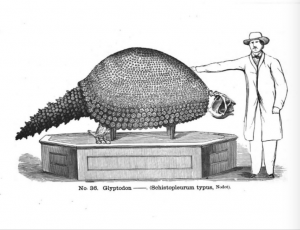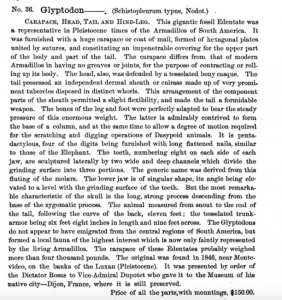 Picture and text from Ward's catalog (the Glyptodon was nr 36).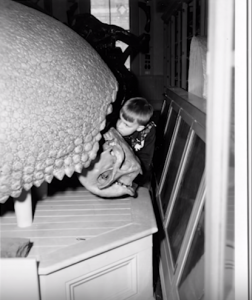 We could get a better view of it, and noted that the internal structure with the legs supporting the body carapace were still intact.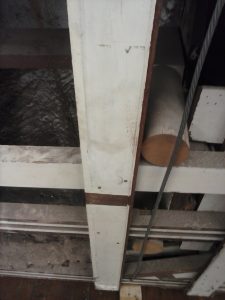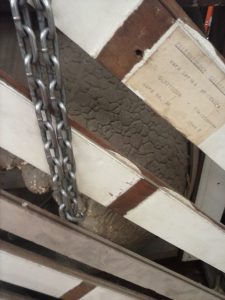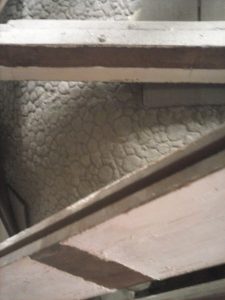 Pictures of the Glyptodon in its crate, now in the Exley machine shop. Left: view from underside of carapace; Second left: detail of support legs; Third: detail of label and surface of carapace; Fourth: detail of carapace.