We recently discovered a fascinating framed mount of specimens showing the life cycle of the Ailanthus Silk Moth. As far as we know, it was purchased from a natural history supplies company in New York in the early 20th century.
The Ailanthus Silkmoth (Samia cynthia Drury) is an introduced species in North America. It was imported from China and brought to Philadelphia in 1861 in order to establish a silk industry in the Eastern United States. S. cynthia is less commonly used in eri-culture (i.e., the rearing of eri cocoons and spinning as well as weaving of clothes) than the more common domesticated Mulberry Silkmoth (Bombyx mori). In 1881, two decades after the introduction of S. cynthia, their caterpillars were seen on almost all trees in New York City's Central Park .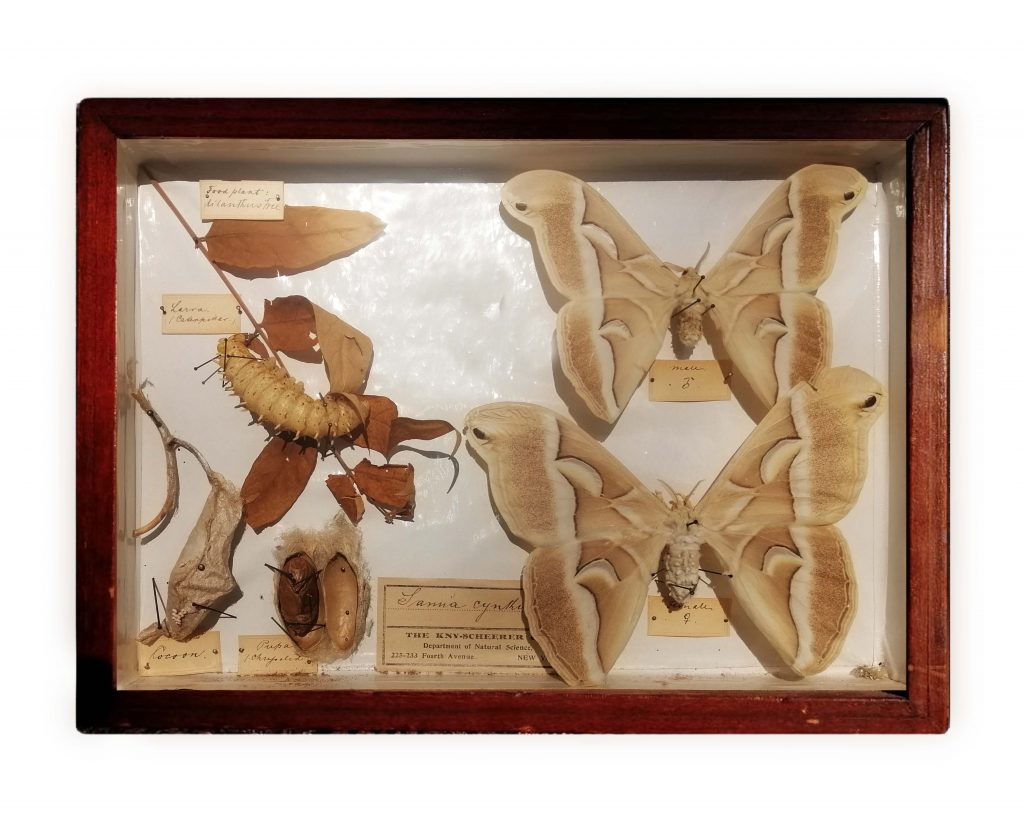 Over the past two decades, Samia cynthia has had a spotty distribution along the Atlantic Coast of North America . It is still found from Washington D.C. to Connecticut, and in parts of West Kentucky. Ironically, the species is now extinct in Philadelphia where it was first introduced into the country.
Eri-culture is prevalent in Asia and Africa, where cocoons are made into valuable silk products, and pupae are eaten as a high-protein food source. Amongst some tribes in northeastern India the pupae of S. cynthia are so 'highly-prized as local delicacy that the cocoon becomes a byproduct of S. cynthia cultivation'.
The introduced Chinese Ailanthus Tree-of-heaven (Ailanthus altissima Swingle) is the host plant of the caterpillars of S. cynthia. In New York City's Central Park, only caterpillars feeding on A. altissima were observed to  develop normally into adult moths. Moths do not feed during their adult lifespan, which can be up to four-months-long for moths that developed from overwintered cocoons. Unlike many moths, S. cynthia are diurnal, belonging to a group of day-time flying moths.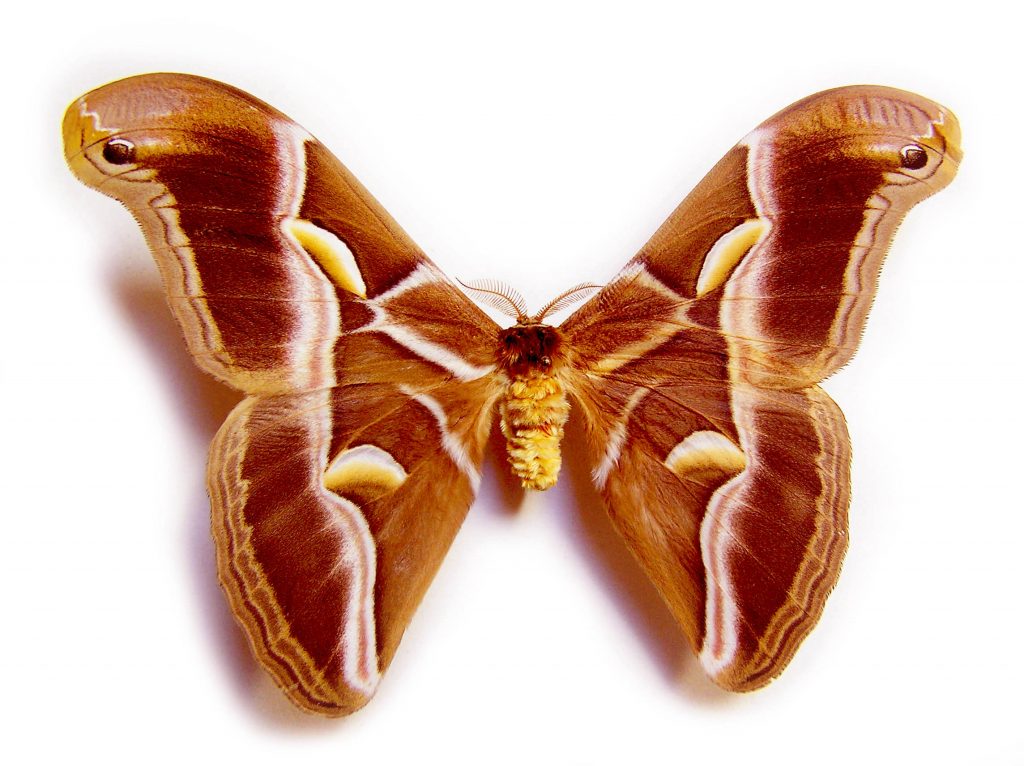 The moth's successful establishment in the United States can be attributed to the invasive nature of its host plant, A. altissima. This plant produces allelopathic root compounds which inhibit the growth of other plants, thus decreasing the competitiveness of native plant species. Samia cynthia  owes its success in part to resistance against commonly used insecticides which were derived from the naturally occurring soil bacterium Bacillus thuringiensis, and first used in the 1950s.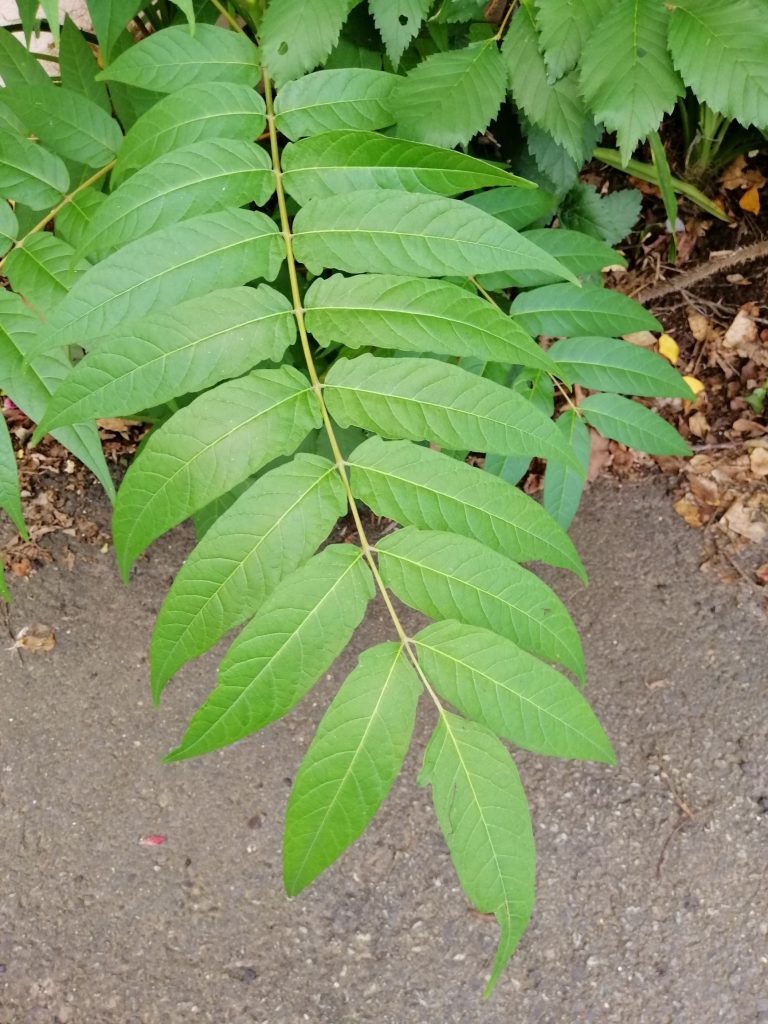 Interestingly, juveniles in the pupal stage are known to perform gut purging in response to light cues, in preparation for emergence from their pupa. In this process large amounts of fluid faecal matter are expelled, which is thought to expel pathogens from the digestive canal of the caterpillar.
The pigmentation of our specimens has faded over time, due to exposure to light. Nevertheless, it is a minor miracle that they have not been ravaged by hungry dermestid beetles or other insects in our gloomy storage spaces. This specimen will be displayed on the second floor of Shanklin Laboratories after restoration.
References
Ailanthus silkmoth Samia cynthia (Drury, 1773) | Butterflies and Moths of North America [WWW Document], n.d. URL https://www.butterfliesandmoths.org/species/Samia-cynthia (accessed 9.28.18).
DeFoliart, G.R., 1999. Insects as Food: Why the Western Attitude Is Important. Annual Review of Entomology 44, 21–50. https://doi.org/10.1146/annurev.ento.44.1.21
Frank, K.D., 2015. Cynthia moth (Ailanthus silkmoth; Samia cynthia), Ecology of Center City, Philadelphia, Chapter 5. Fitler Square Press, Philadelphia, PA, pp. 45–53.
Gómez‐Aparicio, L., Canham, C.D., 2008. Neighbourhood analyses of the allelopathic effects of the invasive tree Ailanthus altissima in temperate forests. Journal of Ecology 96, 447–458. https://doi.org/10.1111/j.1365-2745.2007.01352.x
Mizoguchi, A., Ishizaki, H., 1982. Prothoracic glands of the saturniid moth Samia cynthia ricini possess a circadian clock controlling gut purge timing. Proceedings of the National Academy of Sciences 79, 2726–2730. https://doi.org/10.1073/pnas.79.8.2726
Neupane, F.P., Thapa, R.B., Parajulee, M.N., 1990. Life and seasonal histories of the eri silkworm, Samia cynthia ricini Hutt. (Lepidoptera: Saturniidae), in Chitwan, Nepal. Journal of the Institute of Agriculture and Animal Science, 113–120.
Sandeep Kumar, D., Tarakeswari, M., Lakshminarayana, M., Sujatha, M., 2016. Toxicity of Bacillus thuringiensis crystal proteins against eri silkworm, Samia cynthia ricini (Lepidoptera: Saturniidae). Journal of Invertebrate Pathology 138, 116–119. https://doi.org/10.1016/j.jip.2016.06.012