We are excited to welcome Melanie McCalmont to Wesleyan.
Melanie McCalmont is a geographer and data scientist. She has a Master's degree in Geography, and a Master's degree in Life Science Communication, both from the University of Wisconsin-Madison.
Melanie is the national expert on historic 3-dimensional relief models. She has been a relief model consultant to the Library of Congress, Yellowstone National Park, the Chicago International Map Fair, American Geographic Society Library, the MacLean Collection, and numerous universities and private collectors. She is a frequent speaker on the Ward's Natural Science collections and the history of geovisualization.
Her book, "A Wilderness of Rocks: The Impact of Relief Models on Data Science" (2015) is available through Friesen Press and on Amazon.
Melanie is visiting the Earth & Environmental Sciences Department for in the week of April 16-23 April, to study its historic relief maps, as part of her research for her upcoming book, a biography of Edwin E. Howell, a master maker of relief maps as well as fossil casts, and one of the group of people who installed the Wesleyan fossil casts in the Judd Hall Museum of Natural History in 1870.
She will talk about the Wesleyan collections on Thursday, April 19, 11:50am-12:50 pm, in Room 405, Exley Science Center, Wesleyan University. Lecture open to the public.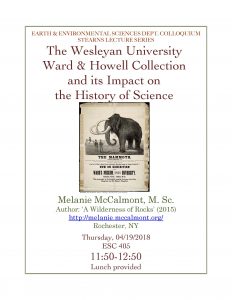 The Wesleyan University Ward & Howell Collection
and Its Impact on the History of Science
Abstract:
Wesleyan University has a rare and historic asset of 19th century natural science specimens and geologic relief models. The supplier, Ward's Natural Science, was a driving force behind establishment of most US natural history museums from 1865-1915.  Using primary sources (diaries) from 1870-1871, this presentation describes how Wesleyan's collection was crafted, installed at Judd Hall, and along with other Ward specimens had a lasting impact on education and the public since 1870. We will also cover Wesleyan's historic geologic relief models (3D maps). Crafted before aerial photography and space imagery, these models were the first accurate geovisualizations of government datasets, and have surprising links to modern technologies. Today's researchers are mining these historic collections to create new insights and even discover new species!